Useful Info
Know why your housing loan application is rejected!
The rejection rate for housing loans is as high as 60%, causing property sales to remain sluggish, the Real Estate and Housing Developers' Association (Rehda) said on 8 March 2017 in The Edge Property.
"Banks and developers have different sets of statistics. From what we have heard, the rejection rate is as high as 60%," said Rehda patron and past president Datuk Ng Seing Liong.
However, banks have said that housing loan applications have a success rate of 80%, noted Ng, adding this could be because banks filtered the housing loan seekers before even receiving applications.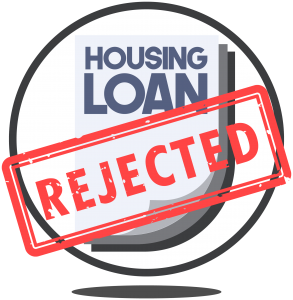 In a press release on 17 March 2017, the Association of Banks in Malaysia (ABM) said the approval rate for housing loans in 2016 is 73.8%. The association clarified that the different statistics on housing loan rejection rates as reported by the banks and developers may be due to differing statistical approaches used by each industry.
"For banks, the approval rate in 2016 is high at 73.8%. The approval rate takes into account housing loans approved by banks and accepted by the borrowers as well as housing loans approved by banks but subsequently cancelled by the borrowers. Banks also generally do not include applications with incomplete documents when calculating the approval or rejection rate," the statement read.
As with other loans, one of the key factors that banks will consider is the capability of the applicant to repay the loan, said ABM, adding that applicants that meet the bank's criteria will not be rejected.
Other common reasons for loan rejections are failed credit risk rating and poor CCRIS report.
Why is CCRIS important?
Central Credit Reference Information System (CCRIS) is a database containing borrowers' credit information. Mostly financial institutions in Malaysia submit their borrowers' monthly credit report to the Credit Bureau in Bank Negara Malaysia (BNM). All information and data is compiled into a credit report which financial institutions have access to.
CCRIS collects credit information from financial service providers in Malaysia like banks, insurance brokers and even private companies providing utility services such as the Malaysian telcos. Information that will be on the credit report from CCRIS are any outstanding loans, summons, or whether the person has been declared bankrupt.
CCRIS will contain credit-related information including:
Outstanding credit
Special attention accounts, which are credit facilities under close supervision of financial institutions
Applications for credit in the previous 12 months that have been approved or are pending.
CCRIS also shows positive information such as your credit approvals and positive repayment history. CCRIS does not provide any opinion or blacklist any individuals, CCRIS provides factual data, which are then used by financial institutions.
CCRIS is important because:
the banks use it to decide whether to approve or reject your loan or credit card application
it shows your credit pattern including defaulted payments for PTPTN
You can get a copy of your CCRIS credit report from Bank Negara. Due to the sensitive nature of the information in the report, you cannot get someone else to obtain it for you. Bring your MyKad and other supporting documents to verify your identity, and the credit report will then be issued to you at BNM's head office or BNM's regional branches.
What is CTOS?
CTOS Data Systems Sdn Bhd is private company that provides credit reporting. There are several credit reporting agencies in Malaysia. Apart from CTOS, there's RAM Credit Info (RAMCI) and Malaysian Rating Corporation Berhad (MARC), among others. These credit reporting agencies do not evaluate or make recommendations on credit applications to the banks.
They present your credit information to the banks that they serve. Usually, financial institutions use more than one credit report to determine an applicant's credit health. Each report comes with a credit score that indicates a consumer's credit risk. The higher the score, the lower the credit risk. Do note that your income level is not one of the factors used to calculate the score.
CCRIS and your credit score are two things that banks use to evaluate whether you qualify for a loan. A full credit report would typically contain detailed credit information, including CCRIS info. You can purchase your credit report from these agencies at a fee. CTOS and RAMCI charges RM25 per report.
So, before you embark on the search for your first or next property, you should check on your credit score, if you haven't. By knowing your credit score, you can take the necessary steps to improve your credit score if your score is below 700. Based on your score and pay/income, the bank will be able to advise whether you qualify for a loan and how much you can borrow.
When you know how much you can borrow, you can then shortlist the relevant properties.
CCRIS
Credit Reporting Agencies
(e.g. CTOS, RAMCI)
Provide credit reports
Provide credit reports
Managed by the Credit Bureau of Bank Negara Malaysia
Privately managed
Information is derived from financial institutions, insurance brokers and even telcos.
Gets credit related information from public sources such as National Registration Department, Malaysia Insolvency Department, Companies Commission Malaysia (CCM), publications of legal proceedings and notices in newspapers and government gazettes.
Ultimately, both provide credit reports although the main difference is how the credit information is obtained.
Understanding home loan / home financing – get your loan approved!
To ensure responsible and transparent financing protection for both consumers and financial institutions, the banks will perform a credit check (CCRIS report), income supporting documents, debt service ratio (DSR) and also, net disposable income (NDI).
Debt Service Ratio (DSR) is a measure to prevent borrowers from becoming over-indebted and to allow sufficient buffer for borrowers' daily and essential expenditures.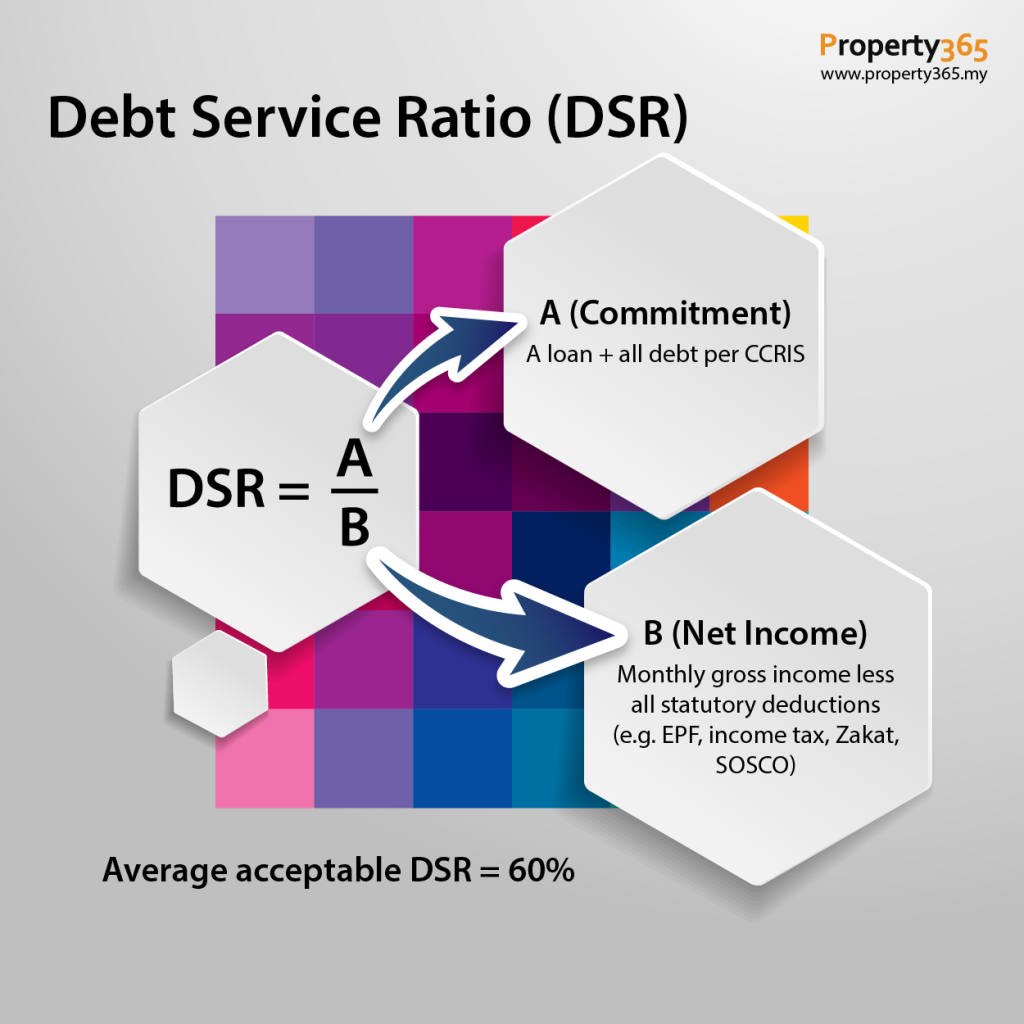 Overall, the acceptable average DSR is 60%. There has been talk that some banks are lenient, going as high as 80% DSR and some are very conservative, going as low as 40% DSR.
Net Disposable Income (NDI)
This is derived from net income minus commitment. The NDI is based on the average in the banking industry. Urban refers to bigger and major towns. The urban borrower must be able to achieve a NDI between RM1,200 and RM1,500, upon deducting all loan commitments. You need to have between RM1,200 and RM1,500 to make sure that you are able to live through the entire month.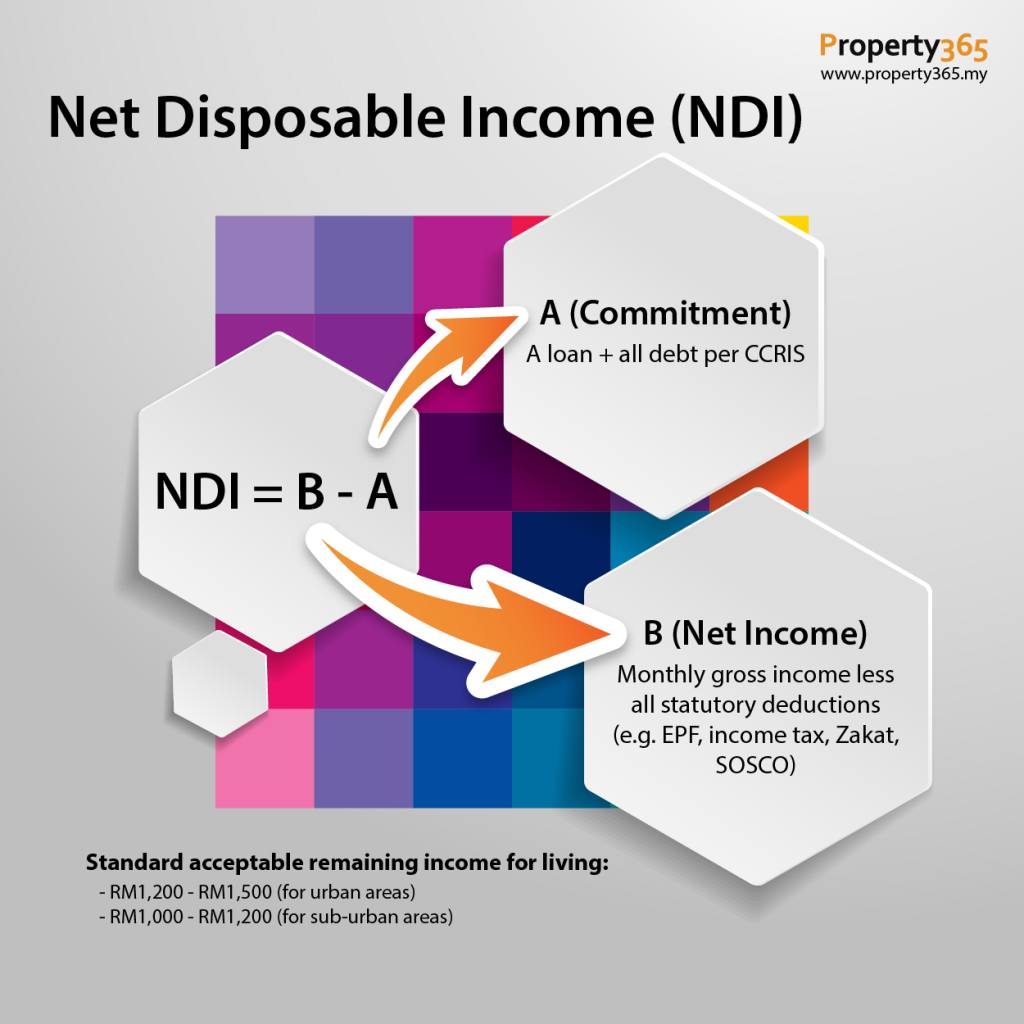 If you are living in Kuala Lumpur and Petaling Jaya with NDI of RM1,200 to RM1,500 per month, that amounts to approximately RM40 to RM50 spend per day.
Measures that can be taken to improve approval of your home loan
Have a good credit record by keeping all payments up to date on existing credit facilities / liabilities.
The ability to prove financial capability to make monthly payments.
Fully and accurately disclose all material information with regard to financial position when applying for a home loan.
Knowing how much you can borrow to purchase a property by checking with the bank. You may also want to consider getting pre-approved for a mortgage loan before looking at purchasing a property.
Now that you know how the banks assess you as a borrower, ensure that you take the necessary steps to get your loan approved!